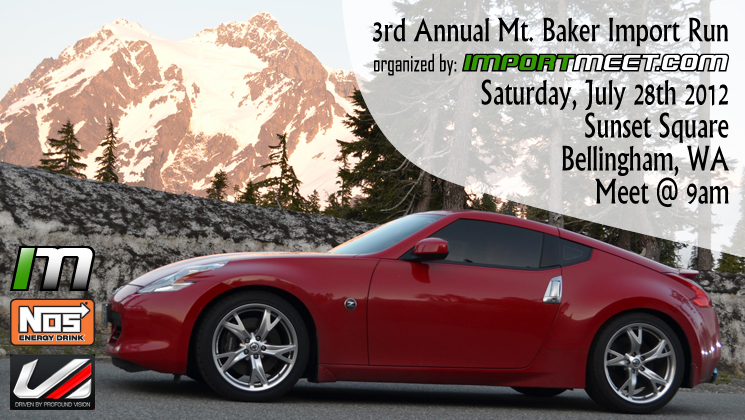 ImportMeet.com would like to officially announce the 3rd Annual Mt. Baker Import Run! Last year, we had over 60 cars in attendance despite the less than ideal weather. Our goal this year is to have over 150 cars cruise to the top of Mt. Baker.
When:
July 28th 2012
Pre-Meet – Sunset Square (Cost Cutter parking lot)
1275 E. Sunset Drive
Bellingham, WA 98226
Meet at 9:00 AM – Leave at 10:00 AM
Just like last year, NOS Energy Drink will be sponsoring the event by providing FREE energy drinks. ImportMeet.com will be providing FREE BBQ food to everyone in attendance (most likely hot dogs).
Who's invited?
All makes and models of cars are welcome, but the primary focus will be on imports. You do not have to be a member of the site to be present, but if you RSVP with the form on this page you will receive a FREE ImportMeet.com vinyl sticker (limited to the first 100 RSVPs). Register here if you're not already a member.
You are NOT invited if you plan on driving like an idiot. You will be asked to leave and will not be welcome at future events if you do not follow the rules listed below:
No revving, racing and/or burnouts
No speeding
No stealing
No littering
NO PASSING (due to the large number of cars that will be present)
Facebook event page: http://www.facebook.com/events/257486837682060/
What's the plan?
We will be meeting at the Sunset Square Cost Cutter parking lot in Bellingham at 9:00am (address is posted above). A driver's meeting is scheduled for 9:45 where we plan on going over our rules for the cruise up the mountain. This year, Poirier Arts will be taking photos of cars as they drive up the mountain at various points along the way. If you would like to purchase a high quality print of your car, visit Poirier-Arts.com after the Mt. Baker Import Run. ImportMeet.com will also have a dedicated photographer that will take pictures of individual cars as they leave the meet at the top. These will be posted in a special gallery after the event.
---
ImportMeet.com is teaming up with NOS Energy Drink and Haggen Food & Pharmacy once again for a Spring Show & Shine in Bellingham, WA. The show & shine will happen on April 21, 2012 from 12pm – 4pm at the Sehome Village Haggen. All raffle and food donations will be given to the Boys and Girls Clubs of Whatcom County. This car show is FREE to the public and you are only required to pay if you want to reserve a spot in the show.
There will be a BBQ with either FREE hot dogs or hamburgers and NOS Energy Drink will be giving away FREE energy drinks. Gramophone Co. will be our DJ for the show.
There are currently 75 reserved spots available for show & shine participants. $10 will reserve a spot in the show & shine for ImportMeet.com members. If you're not a member on our site, the price is $12.50. It's completely FREE to become a member on ImportMeet.com and you can register here if you haven't already to save $2.50. If you wait and register the day of the show, it will be $15 cash.
Please use the form at the bottom of the page to reserve your spot at the Spring Show & Shine. Make sure you login to your ImportMeet.com account before clicking on the PayPal button below to ensure that you aren't overcharged.
Various prizes from the show sponsors will be raffled off during the event and all of the money received from the raffle will be donated to the Boys and Girls Clubs of Whatcom County. PassingLanePerformance.com will have a booth set up and will have products for sale with a portion of their profits going to the Boys and Girls Clubs of Whatcom County.
Location:
Sehome Village Haggen
210 36th St
Bellingham, WA 98225
(360)676-1996
Time:
10am – 11:30am (Parking and registration)
12pm – 4pm (Show & Shine)
Cost:
$10.00 for ImportMeet.com members
$12.50 for non-members (Register here!)
$15.00 for morning of registration
Awards for the Show & Shine are listed below (may change and new awards may be added):
Best Paint
Best Interior
Best Engine Bay
Best Stance
Best VIP Style
Best Street Style
Best Race Style*
Best Euro
Best Japanese
Best Other
Best of Show
Cars will be judged by all of the other people who have registered for the car show. Each person who enters will receive a voting card that they must use to select their favorite car for each category. Near the end of the day these will be tallied up and the winner in each category will be announced.
*To win the Race Style category a car must have proof of being on a racetrack. Proof means either photos, a cage, or time slips. Please present any of these at registration if you think you're car is eligible.
Facebook event page:
http://www.facebook.com/events/193263737453483/
Feel free to invite your friends on Facebook. We hope to see you there!
Pre-Registration:
You must be 18 years of age or older register for this event.
In consideration of accepting this entry, I, and any of my passengers, intending to be legally bound, do hereby for my heirs and my executors, administrators, and/or myself waive and release any and all rights and claims or damages I may accrue against the persons and organizations affiliated with this event, and release ImportMeet.com, NOS Energy Drink, Haggen Food and Pharmacy and any member of the show staff or volunteer, for any and all injuries and or property damage that may be suffered by me, my passengers, or my property, as a result of participating in this event, including driving to and from such event, participation in the event, and parking at, near, or for the event.
By submitting this registration form online, I hereby acknowledge that I have read, understand, agree and accept these Terms & Conditions.
Note: Your name, address, and email address will be kept for registration purposes. If your PayPal account holder's name is different from your own, please provide this name the morning of registration.
Note: You do not need a PayPal account to register. Click on the Pay Now button and select "Don't have a PayPal account?" in the bottom right to pay with a credit or debit card.
The total is $12.50. Register here.
More info here
-el
---
A Video I made of the event that day, many thanks to NWMOTIV.com, Evolutionm.net, NOS ENERGY DRINK, Southcenter Cinemas, and all the staff and crew that helped make this happen.
Enjoy.
All comments are welcome.
-kimsan808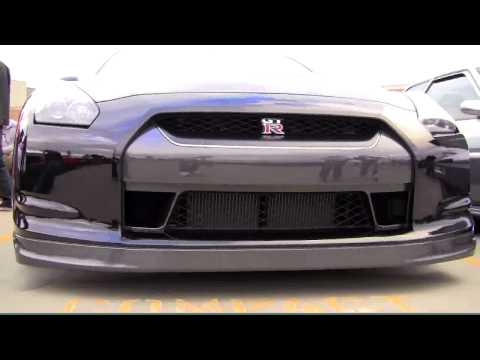 ---